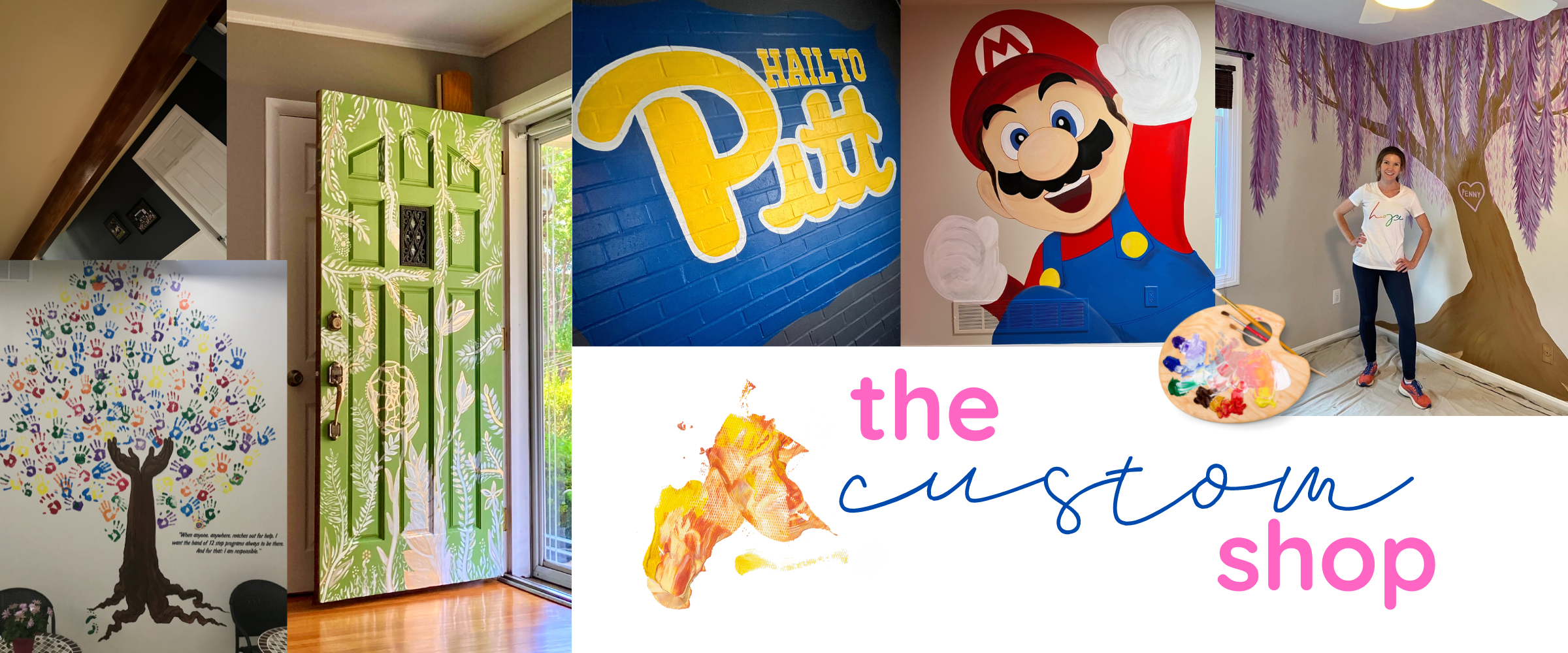 Commission a custom work of art to add value & beauty to your space!
Whether you're looking to have a one-of-a-kind mural or painting for your home or office, a hand painted logo added to your business or school, or another creative project in mind - I'd love to help make it happen for you!
Please check out my FAQ page and browse past projects in my gallery below, then let's get your project booked!
Please use the contact page to provide information about your vision and include details such as measurements & your contact info. I'll be happy to provide a free estimate & to discuss your project with you!
Testimonials
WOW!!! I absolutely Love the work Brittany did on my stair risers. It's exactly what I wanted and done perfectly!! She is so sweet and fast and reasonably priced. I already told her I will be asking her to do more projects for me. Definitely hire her!!

Julie B.
We had a wonderful experience having Hope is the way, Love is the answer design and paint a mural for my daughter's room. The design process was collaborative, the mural came together in record time, and she created a beautiful space that will grow with her for years to come. We could not be happier and recommend her highly to anyone planning a creative project.

Caroline S.
Brittany completed a large mural for us in our home. From the time I initially reached out to her to then seeing the completed artwork, I felt so comfortable and confident working with her. She provided multiple mock-ups and ultimately helped me figure out what looked best for the space; she understood my vision exactly. She provided quality work with a very quick turnaround time. I'm honored and proud to display her artwork in our home. Thank you, Brittany!

Eden D.
Brittany was amazing to work with. Listened to what we wanted and gave us several mock ups. The room turned out just as we wanted. She was timely, clean and amazing to work with. It still makes me smile when I walk into the room.

Ann S.
Brittany's professionalism and artistry are unmatched. I cannot say enough wonderful things about her! Her creative insights and her overall presence and passion for her work left an impression on myself and my colleagues. We cannot wait to work with her on future projects!

Kate L.
Brittany was amazing!!! I told her I wanted a mural for my daughters bedroom, but I didn't have a clue what it should be or how it should look. Brittany sent me pics and sketches to figure out what we liked, and she turned all those ideas into the final design that we LOVE! On the day of, she sketched out the mural with chalk to make sure it was what we wanted. I asked that the whole tree be moved over a few feet and within mere seconds she re-sketched the entire thing! She showed up on time and was so pleasant and professional (even with me peaking in to bother her multiple times). She finished the mural in less than ONE DAY! My daughter was SO surprised and excited when she came home from school. The entire process was a lot of fun and we can't recommend Brittany enough! Can't wait to hire her for our next project!!!

Carolyn C.
From when I first reached out with my ideas to the finished work, Brittany was an absolute pleasure to work with even when I kept changing my mind and adding things on! Her artistic creations in my home are absolutely gorgeous & add so much joy and life to my home. Highly recommend her for any mural or art needs for your space.

Ariel W.
I contacted Brittany about creating 2 prints for my living room. I asked if she could capture images of birds on branches - one of them being a peacock since I love the look and color of that bird.
She worked with me to determine the size and shape that would fit the scale of the room. Partway through the process, she brought the pair of prints to my house to check on the colors - always offering to make changes if I desired any. I'm thrilled with the final result!!! These prints are perfect- and put an end to a long search for 'just the right prints'!

Shari M.
Amazing job. We are so happy with the final product. Brittany did an amazing job and was super responsive to any requests we had. Thank you!!

Bob S.